Effective Prayer And Prayer Answers (eKit Download)
Product Description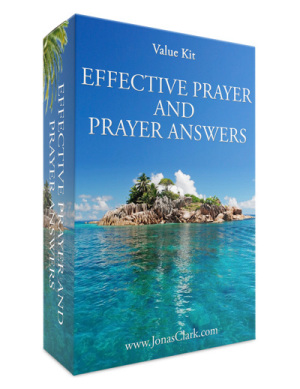 Power of prayer and prayer answers is what you need to move forward in purpose. Through the power of prayer the Holy Spirit leads you and guides you through life. Sometimes, however, you pray and hear nothing.
---
When you don't receive prayer answers, you can become frustrated and disheartened. Then the enemy torments your mind with all sorts of vain imaginations, and you're ready to quit.There are several reasons prayer does not get answered. We will cover some of those, but, more importantly, you are going to learn what it takes to get prayer answered, fast! Don't give up. God is on your side.
THINGS COVERED
Hearing God During Spiritual Warfare
Prayer for Healing
Prayer for Strength
Prayer for Protection
Trusting God When You Can't Hear A Thing
Secret to Answered Prayer
Prayer for the Sick
Power of Prayer
The Prayer of Faith
Praying Out The Mysteries of God
When Giants And Mountains Don't Move
Prayer That Gets Rewarded
How To Enter God's Presence
Prayer Closets
Hearing God in the Secret Place
Praying in the Spirit


Includes 3 pdf books and over 12 hours of mp3 audio teaching.
BOOKS

What To Do When You Feel Like Giving Up
Holy Ghost Tongues, Power, & Prayer
50 Confessions
What To Do When You Feel Like Giving Up
Overcoming Confusion's Grey Haze.

Don't Give Life to Thoughts of Giving Up

What to do When an Imagination Hits Your Mind.

How to Fortified Your Mind Against Vain Thoughts.

The Power of Determination
Holy Ghost Tongues, Power, & Prayer
How to manifest Kingdom restoration.

Power to overcome demonic principalities.

Discover nine facts about the Holy Ghost outpouring.

Activate the nine gifts of the Holy Spirit in you.
50 Confessions
Sometimes it's hard to navigate your way. What you need is truth. Confessing the Word of
God over your life is a powerful way to renew your mind with Biblical truth.


3 ALBUMS (12 MP3s)
VOLUME 1
How To Enter God's Presence

Knowing What To Pray For

Prayer That Gets Rewarded

How To Hear From God During Warfare
VOLUME 2
Warfare And The Seasoned Intercessor

How To Be Led By The Holy Spirit

Its Time To Speak The Word

Prayer That Gets Answered
VOLUME 3
What To Do When You Can't Hear From God

Send The Word

Praying Gods Perfect Will

Developing Your Spiritual Capacity

This kit is an instant download. No physical products are mailed.
Product Reviews
This product hasn't received any reviews yet. Be the first to review this product!